Defy Physics & Blast Through Enemies in Chaotic 2D Shooter 'Gravity Heroes', Out Now on Consoles!
PQube, Studica Solution and Electric Monkeys are excited to announce that chaotic 2D shooter Gravity Heroes is out today on Nintendo Switch, Xbox One and PlayStation 4, as well as next gen consoles via backwards compatibility!
With an incredible pixel art aesthetic, classic arcade-style platform shooting combined with the unique 'gravity shifter' mechanic, Gravity Heroes is a unique combination of retro style and modern mechanics that push the boundaries.
Launched to PC in February, Gravity Heroes is also available now on Steam! Described by players as featuring "skilful gameplay is as beautiful as the graphics", the Steam version of the game was well received.
Step into the arena as a member of the Gravity Heroes, taking on hordes of synthetic enemies as you attempt to restrike the balance between man and machine in a futuristic war-torn world.
Your ultimate weapon is the 'Gravity Shifter', allowing you to manipulate gravity; use your unique abilities to cut down enemies, collect power-ups, new weapons and switch up tactics to change the tide of battle.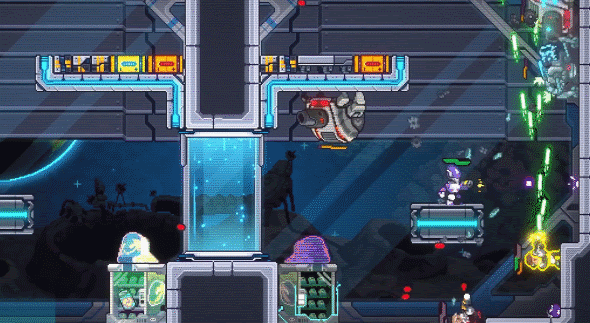 Face the robotic hordes on the walls, floors, and ceilings as you shift and control your centre of gravity with Gravity Heroes' unique 'gravity shifter' mechanic.
Dodge enemy projectiles as you whip around rich environmental stages, or meet them head-on in rapid bullet-hell-like combat using platforms to navigate each level by shifting your gravity.
Take on colossal enemies as you fight your way through the bosses of the synthetic uprising in Story Mode.
These titans will stop at nothing until they've destroyed all in their path - colourful and dynamic with a classic 2D pixel art aesthetic, defeating huge screen-filling bosses and dominate the arena by manipulating physics to dodge and blast them to pieces!
Get lost in hectic couch-based local multiplayer! Team up with up to 3 friends and family in 'Survivor mode' or unleash your competitive side in 'versus mode'.
With hordes of enemies, enormous bosses, and a battle to survive at all costs, use the team to try new tactics, combine skills and neutralize the enemy!